Aardman Animations has entertained audiences for years with visually dazzling stop-motion cartoons like
"Chicken Run,"
"Shaun the Sheep"
and, most famously,
"Wallace and Gromit."
This weekend, they return to theaters with
"The Pirates! Band of Misfits,"
a comical story about a helpless ship of plunderers, featuring the voice talents of
Hugh Grant
,
Martin Freeman
(a.k.a. Bilbo Baggins from "The Hobbit") and
David Tennant
("Dr. Who"). Grant voices the bumbling Pirate Captain, a not-so-respected leader who's trying to finally win the coveted "Pirate of the Year" award. During his award season campaign, he gets roped in with a young Charles Darwin, and the pirates and scientist end up in a madcap swashbuckling tale involving a parrot that may or may not be a parrot, a super-smart chimp, sword fights, food fights, the plague and the most insane depiction of Queen Victoria ever. The movie -- like all classic Aardman projects -- is loaded with hilarious sight gags, clever wordplay and eye-popping colorful art direction, like the UK's best rendition of a "Looney Tunes" escapade. Moviefone recently sat down with the director of the film and Academy Award-winning co-founder of Aardman,
Peter Lord
. During our chat, Lord broke down what he hates in kids movies, how people will soon be able to make CGI blockbusters in their garages and even revealed the "Wallace and Gromit" adventure that was too impossible to film.
"The Pirates!" features Charles Darwin as a main character. How are you preparing for the inevitable Fox News piece about a "supposed children's movie featuring the controversial Darwin as a hero"?
[Laughs] Okay, the truth is, I like Darwin. I mean,
our
Darwin, he's a respectable figure, but we give him such a hard time. All the fundamentalists were delighted because we make him look like a complete ass.
But that requires watching the movie, and they're not going to do that.
He's definitely not the hero. He has a terrible time. He's knocked over, beaten up, humiliated, tarred and feathered. Our Darwin, his mission in life is getting a girl. He's more interested in getting a girl than anything else. He doesn't know the first idea about evolution, [although] the Captain gives him a couple of hints.
There's always talk about, "that's inappropriate for a kids movie" or "that kids movie had a lot of adult jokes in it." What's your perception of what filmmakers think are kids' movies and what actual kids can handle?
The films I really don't like are films that are dumbed down and treat kids as if they were a separate species. They often try to keep them still in their seats, by throwing stuff at them in bright colors. I don't believe in talking down to children. Kids are intelligent. So with "Pirates," for example, a child will empathize with the pirates' situation when everyone laughs at them. Everyone knows what that feels like when you're at school and people laugh at you.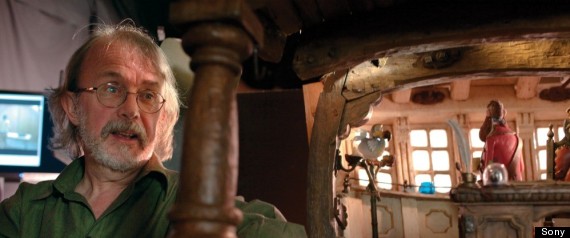 I take seriously the fact that my responsibility is to entertain them as well. Which is why I made sure there was going to be explosions and cannons firing and slapstick and people flying downstairs in the bath. It can have all the madness and indignity and comedy that a child could wish for. And the story is a simple moral tale at the heart of it, decorated with visual fun. Even the things on the screen can make you laugh. What we haven't done is that thing when you make a dumb film for kids and throw in a few jokes for adults. I don't like that either. I think we've made a film for any audience to have fun with.
Aardman's always been a big fan of Studio Ghibli and Hayao Miyazaki. Which of their projects do you think deserve more love in America?
Well it's not surprising that I love
"Totoro."
It's just a fantastic film. And "Totoro" is amazing because kids love it, yet it's so unlike the mainstream. It's a slow movie, gently paced. I loved
"Spirited Away."
The other one I really like is
"My Neighbors The Yamadas."
Really charming. What's amazing is that it's derived from a strip cartoon from the newspaper, a three-framed strip cartoon. Try turning a three-framed cartoon into a good feature film. It's a pretty good trick.
Looking back on Aardman's efforts, what's the most audacious Wallace and Gromit adventure you haven't filmed yet?
Oh god! Every time you start a new film, there's something really, really audacious that you don't do. I can tell you that for
"Grand Day Out,"
there was a
huge
scene that was cut -- [a] huge scene, with a kind of diner on the moon with full machines and elaborate sci-fi set piece on the moon, but that never happened.
Are you waiting for the technology to catch up?
Yeah,
Nick [Park]
was working on his own then. It would've taken him another five years to have done it. [Laughs]
What do you think is happening in the animation industry right now that's new and exciting?
I don't know what's new. It's become a problem, hasn't it? It's interesting that there's a lot of stop-frame out now because there's this rather wonderful film, there's
"ParaNorman"
and
"Frankenweenie"
and
Henry Selick's
got a new project. So that's three films together in one year, maybe four films in two years. People talk about our business, stop-motion, as being the old style that's dying out, but no one's ever made three stop-motion movies in a year before.
That's
exciting. One day, not far off, someone's going to produce a real garage CG movie, with a really tiny budget, because you can. Anyone at home can do it.
It will be the indie CGI movement.
CG is so expensive and difficult to make, and as a result they have to be financially successful. They've done it in a very conservative type of way. People don't take risks, they try to make movies that fit the formula. But if
you
can make a film, you could go crazy. You wouldn't need big stars. You could get regular actors and make the whole thing in your back bedroom. You can make some pretty damn fine-looking movies, and that would be an interesting development.
Source: http://news.moviefone.com/2012/04/27/peter-lord-pirates-band-of-misfits-aardman-interview_n_1458949.html
Anna Faris Anna Friel Anna Kournikova Anna Paquin AnnaLynne McCord Anne Marie Kortright